Moving is what we are good at
Local and Long Distance Moving
Whether you are moving just down the street or half way around the world, Bajet Van Lines will guarantee that your items will arrive safe and on-time. Your belongings will be handled with the best care. It doesn't matter where you're going – our moving service can help!
No job is too big or too small for our movers. Our number one concern is to help our customers have a great moving experience. We offer a range of moving services that can be personalized to suit your individual needs. We can assist with local residential or corporate moves, long-distance or interstate moves, and international moves.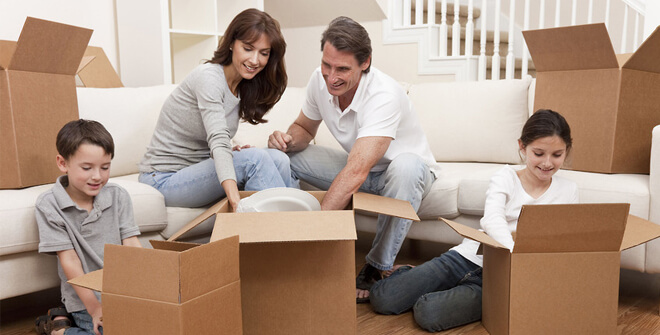 Let us help you move by providing the best transportation
Moving options
With more than 40 years of experience as a moving service provider, Bajet Van Lines can make your move simple. Depending on your budget and needs, choose from the following moving services:
Packing — Whether you simply need moving supplies or don't want to lift a finger yourself, Bajet Van Lines can help. Contact us for more information on the range of packing services we provide and select what works best for you.

Loading/unloading — Bajet Van Lines is here if you don't want to do the heavy lifting. We'll follow your instructions for keeping your belongings organized once arriving at your new home – and we'll keep it safe while doing so.

Transporting — You may think renting a truck is cheaper than hiring out, but you might be surprised what our moving services cost in comparison. Contact us and we'll give you a quote you can't refuse.
"Let Bajet Van Lines relieve you from the unnecessary stress of moving."
Packing
You can pack yourself, opt for a professional packer to do the work, or a little of both. It's your choice:
Full Service Packing - Our trained professionals pack it all. From shoes to the antique armoire, we do it all.
Fragile-Only Packing - We pack all the breakable items - china, dishes, mirrors - and you take care of the rest.
Standard Self-Pack - You do the packing. To help, we offer tips on how to pack efficiently, and our agents stock a range of packing materials.
Packing Materials
You have a lot of possessions, all with unique shapes and weights. That's why we have a wide variety of specialty packing materials.
Standard Boxes - Available from 1.5 to 6 cubic feet.
Wardrobe Boxes - The easiest way to move clothes.
Mirror Boxes - Extra protection for mirrors, pictures or glass tabletops.
Mattress Boxes - Available in all sizes.
Dishpack Barrel - Extra sturdy carriers for your special china and dishware, with dividers for extra protection.
Stretch Wrap - Protects furniture from snags, tears and dirt.
Padding - All non-packed or crated items will be padded using the highest quality materials available on the market today.
Loading and Unloading
Getting your valuables out of your previous home and into your new one can be tricky. Luckily, we're prepared for it.
Disassembly/Assembly - From entertainment centers to beds to swing sets, just tell us what needs to be disassembled and moved with you. We'll even put it back together for you at your destination.
Residence Protection Pads - Protect the railings, tight corners and doors.
Carpet Covers - Keep high traffic areas clean
Systematic Loading - Boxes are labeled and inventoried based on rooms and your needs upon arrival.
Systematic Unloading - We put your belongings in the rooms you want them in. Just point the way.
More Options for Added Convenience
Unpacking - Say the word and we'll take care of it.
Debris Removal - Our crew can remove all the empty containers after unpacking.
Storage - Can't move into your new home right away? We can keep your items secured for however long you need. For more information on storage, click here.
Third-Party Services - We can arrange for appliances to be connected, a hot tub to be assembled, or additional cleaning services.
Crafting - Consider custom crafting to protect fragile or non-standard sized belongings.
We take pride in our solid reputation - but even more than that, we take pride in what we do.